CA Roadside Emission Testing Checkpoints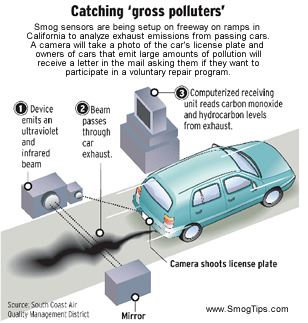 Remote smog sensors are appearing along California roadsides to measure emissions from cars as they drive by. The entire process takes about three seconds. Roadside smog test and emission test checkpoints are appearing all over the State of California.
(1) An infrared beam shot across the highway picks up the contents of a car's exhaust. A calibrator and computer on the other side of the road screen and measure the emissions.
(2) At the same time, a camera snaps a picture of the vehicle's license plate. The state uses that information to find and notify the vehicle's owner if emissions are too high.
(3) Vehicle owners are mailed a letter asking them to participate in a voluntary vehicle repair program.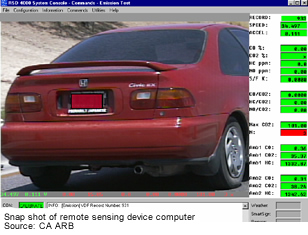 The Remote and roadside smog check sensing program aims to gather remote and roadside test records of 1 million individual vehicles, about 10 percent of all vehicles in the region. Cars, trucks, SUV, vans, and RVs which fail the remote or roadside smog check will be required to repair their vehicles. Vehicles may be eligible for Consumer Assistance Program.
Remote roadside smog testing equipment will be located for a few days at a time at more than 100 sites across four counties, most likely on freeway on-ramps. Some locations may alter or slow traffic flow as checkpoint personnal will direct only certain polluting vehicles to the roadside smog check area.
Remote and roadside smog testing locations will not be publicized and will be rotated on an unannounced basis to ensure an accurate sampling of California's vehicles.
View SmogTips.com in: Desktop / Mobile
SmogTips.com © 2023 All rights reserved