Air Injection System and Smog Pump Operation
The air injection system (AIS) is designed to introduce clean air to the engine exhaust as it exits the exhaust manifold or exhaust headers. Exhaust gases are at their hottest as they leave the combustion chambers. Introducing oxygen to the exhaust at this point allows continued burning of the fuel mixture as it travels down the exhaust system and ultimately out the tailpipe.
Air injection systems consist of mainly two different designs. Your vehicle's Underhood Emissions Label can provide you with information regarding the requirements of this emission system design and equipped components.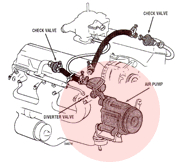 View SmogTips.com in: Desktop / Mobile
SmogTips.com © 2023 All rights reserved