The Underhood Emission Label
The federal government requires vehicle manufactures to place this label in the vehicle's engine compartment. Normally it will be located on the bottom panel of the hood. It will look very similar to the one pictured below. This label will allow you to determine which emission components your vehicle is required to have.
The components will normally be listed in abbreviated form. Please use the abbreviations below and your vehicle's emissions label to learn about your car's required smog components.
Missing Label: Your vehicle will NOT fail the smog inspection if the Emissions Label is missing. Many vehicles have had there hood's replaced and as a result may have lost their original Emissions Label.
Required: All vehicles are required to have the PCV and EVAP systems installed and operational, regardless of whether these components are listed on the emission label or not. These two emission systems are federal requirements and all vehicle manufactures must incorporate them into their vehicle's engine designs.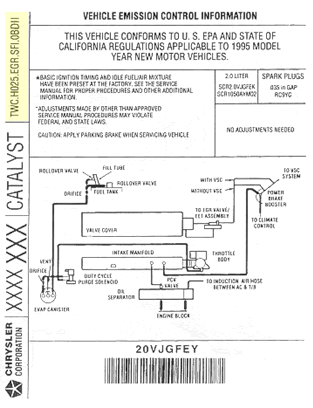 View SmogTips.com in: Desktop / Mobile
SmogTips.com © 2023 All rights reserved