Exhaust Gas Recirculation Valve (EGR Valve)
The EGR valve is responsible for recirculating a small amount of exhaust gas back into the combustion chamber. This is done to cool down the chamber temperature by producing an inert gas along with the regular fuel mixture. Nitrogen Oxide emissions are formed when engine chamber temperatures rise above 2500* F. Keeping the chamber cool reduces NOx emission.
The higher the combustion temperatures, the greater the formation of NOx. Along with the CAT, the EGR valve significantly reduces unburned hydrocarbons HC and Nitrogen Oxide NOx in exhaust emissions.
EGR valves can be both vacuum controlled or electronic. In both cases they are normally located near the intake manifold around the top of the engine.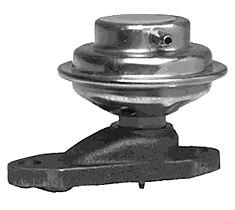 View SmogTips.com in: Desktop / Mobile
SmogTips.com © 2023 All rights reserved